Instant Court Case Lookup
The following is for information purposes only
District Courts
What is a District Court?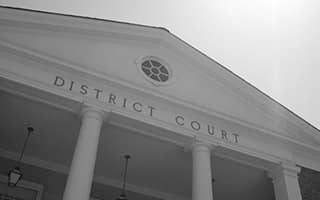 The federal trial courts are the district courts of the United States. Each federal judicial district encompasses a single U.S. state or, in rare instances, a part of a state.
The country has 94 district courts. These courts determine who is correct by assessing the facts and applying legal principles.
Each district court has a lifelong judge selected by the president and approved by the Senate.
District court judges are in charge of running the court and keeping an eye on the people who work there. They can remain in office if they establish "good conduct", but Congress can impeach and get rid of them if they don't.
In the whole country, there are more than 670 district court judges.
What Types of Cases are Handled by District Courts?
Before a district court can hear cases, Congress must assign the court subject matter jurisdiction over the disputed kind.
The district courts have original jurisdiction, or the authority to conduct trials, over the following categories of cases:
Civil proceedings occurring under the Constitution, the laws, and international treaties of the United States
Certain civil cases involving residents of various states or between citizens of a state and citizens of a foreign state
Civil cases that fall within the admiralty or maritime jurisdiction of the United States
Criminal prosecutions initiated by the United States
Civil lawsuits concerning the United States
Multiple diverse forms of cases and issues
In most of these cases, the concurrent jurisdiction of the federal district courts and state courts applies. In other words, a plaintiff can bring these cases before either a federal district court or a state court.
For some matters, including patent and copyright infringement disputes and federal criminal prosecutions, the district courts have exclusive jurisdiction over state courts, meaning that only federal courts can hear certain cases.
The district courts have appellate jurisdiction over a limited number of judgments, orders, and decrees in addition to their original jurisdiction.
District Court Criminal and Civil Cases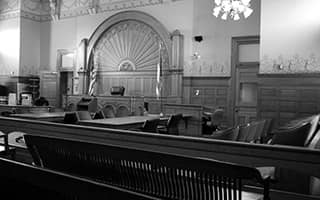 District courts have jurisdiction over criminal and civil cases. Criminal jurisdiction encompasses traffic and non-traffic charges, such as:
Driving under the influence
Reckless driving
Driving with a suspended license
fourth-degree assault
Also, district courts handle preliminary felony hearings.
Gross misdemeanors carry a one-year prison sentence and a $5,000 fine. Misdemeanors carry a maximum 90-day prison sentence and a $1,000 fine.
In civil cases, damages for harm to people or property and contract disputes up to $100,000 are under jurisdiction.
District courts have power over traffic and non-traffic violations and civil processes with monetary fines but no prison time.
This court has jurisdiction to grant domestic violence, anti-harassment protection, and no-contact orders. Also, they hear name-change requests and debt foreclosures.
Small Claims
Individuals can only file small claims up to $5,000 or $10,000. The District Court's Small Claims Division handles these cases. Unless the court approves, each party represents themselves. Individuals can't compel witnesses; they may testify voluntarily.
Cases under small claims include:
Neighborhood disputes
Consumer issues
Landlord or tenant matters
Modest collections
For assistance, the district court clerk can help you file a claim.
What are District Court Procedures?
A claimant is a person who files a District Court case, while the sued party is the respondent.
The claimant's lawyer drafts and delivers a claim notice to the respondent to begin legal action. The respondent's counsel replies with an appearance and defense to signify that they plan to defend the matter.
They may also add a statement of counterclaim in their presentation and defense if they feel they have a claim against the claimant.
Claim notice
Claim notices start District Court proceedings. Solicitors usually create claim notices.
The District Court must receive the claim notice and stamp duty.
Personal injuries need the use of a specific sort of claim notice known as a personal injuries summons.
Judges
A district court judge is titled "U.S District Judge". Some federal judges, including Supreme Court justices and circuit judges, can sit in a district court if assigned by the circuit chief judge or the U.S. Chief Justice. Congress sets the number of district court judges in the U.S. Code.
Article III judges appoint federal district judges for life, except for Guam, the Northern Mariana Islands, and the Virgin Islands. Only "bad conduct" may result in termination. The only options to involuntarily remove a judge are via impeachment by the House of Representatives, trial in the Senate, and conviction by a majority of two-thirds.
District judges manage their court's docket, supervise trials, and write decisions responding to requests like summary judgment. Since the 1960s, district courts can delegate mundane work like discovery disputes to magistrate judges.
Magistrate judges can prepare reports and recommendations on contentious topics for the district court or take total jurisdiction over a case with the parties' cooperation, including conducting the trial.
Clerks
Each district court appoints a clerk to supervise files, keep records, process fees, fines, and reparations, and manage non-judicial activities, including I.T., budget, procurement, human resources, and finance.
Court clerks assign deputies, clerical assistants, and workers. Except for the District of Columbia and the Southern District of New York, district court clerks must live in the district to which they are assigned.
The Judiciary Act of 1789 allowed the Supreme Court and each U.S. District Court judge to designate a clerk to help with federal judicial operations. Each district court clerk served as a circuit court clerk. The Judiciary Act mandated clerks to issue jury summonses and record court decrees, judgments, and conclusions.
The court appoints and removes the clerk under 28 U.S.C. 751. Statute, court norms, and Judicial Conference of the United States policy regulate the clerk's responsibilities. The full court appoints the clerk. Clerks and deputies are not the same as judges' law clerks, who undertake research and produce opinions.
To qualify to serve as a clerk, a person must have at least ten years of increasingly responsible administrative experience in public service or business, including three years in a managerial role. An attorney may replace year-for-year of legal practice with organizational or administrative experience. Some courts prefer clerks with a legal degree.
Attorneys
The court's bar must admit an attorney first before representing a party in a district court case. In the U.S., there is no separate bar test for federal practice (except for the patent practice of the U.S. Patent and Trademark Office). Usually, any attorney authorized to practice law in the state where the district court is can join the court bar.
The district courts in New York City (Eastern and Southern Districts of New York) allow lawyers admission to the bar in Connecticut or Vermont and to the district court in that state but require attorneys to the New York bar admission. Only 13 districts allow attorneys admitted to the bar of any U.S. state.
Several district courts require bar applicants to take a federal law bar test, including the Northern District of Florida, the Southern District of Ohio, and the District of Puerto Rico.
Case-by-case pro hac vice admission is likewise possible in most federal district courts. Most district courts require pro hac vice lawyers to affiliate with an attorney authorized to practice before the court.
Appeals
Generally, you can appeal a final district court ruling in a civil or criminal case to the U.S. court of appeals in the federal judicial circuit where the district court sits.
In rare cases, you must appeal district court findings involving patents and other specialized issues straight to the U.S. Supreme Court.
What are the Differences Between Municipal and District Courts?
District and municipal courts are examples of limited jurisdiction courts. District courts are county courts that serve specific unincorporated and incorporated regions within the county. Cities and municipalities establish municipal courts.
Annually, district and municipal courts receive more than two million cases. Seven out of eight lawsuits filed in state courts, excluding parking violations, are pointed at these levels. It is partly attributable to these courts' expansive jurisdiction over traffic infractions and crimes.
Municipal courts handle ordinance violations. It has the same power as district courts for ordinance infractions.
Both courts have jurisdiction over grave crimes, misdemeanors, and violations. However, municipal courts don't hear civil or small-claims cases, unlike the district court.
Municipal courts may issue protection and no-contact orders as with district courts. In addition, after adopting a local court regulation, a municipal court can issue anti-harassment protection orders.
Where to Find District Court Records?
Since district court is under the federal judicial system, you can use the PACER system to find district court records. Also, you can call the Clerk's Office at the courtroom where a specific case occurred to track down a federal court case in progress.
Access to free court opinions is available to anybody with a PACER account. Thanks to cooperation with the U.S. Government Publishing Office, many district court opinions are now accessible in text-searchable format.