Instant Court Case Lookup
The following is for information purposes only
Drug Courts
What is a Drug Court?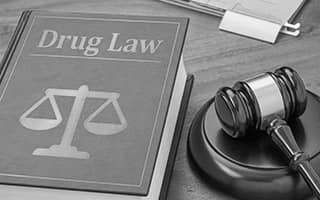 Drug courts are problem-solving courts where the judiciary, prosecution, defense bar, probation, law enforcement, drug use, mental health, and social service groups work together to treat participants with substance use disorders and minimize crime.
The objective of a drug court is to assist criminals in rehabilitating and preventing recidivism and substance misuse. These courts help nonviolent offenders obtain drug treatment to remain clean and out of trouble. It makes them more robust and less troublesome members of society.
What Types of Cases are Handled by Drug Courts?
A drug court is a different court that handles certain felony and misdemeanor cases involving drug-using, nonviolent offenders.
This court handles issues that lead to criminal behavior, such as addiction or mental illness.
In traditional criminal court cases, people guilty of drug charges get sent to jail. Drug court programs understand that addiction is a long-term brain disease that affects behavior and the ability to control impulses. So, the main goal of drug courts is not to punish but to treat the condition.
Integrating a Drug Court into the Criminal Case Process
Most drug courts are a type of probation that comes after a criminal conviction. Participants in drug court are those on supervised probation, found guilty, or had their cases prolonged without a verdict after admitting enough evidence.
Most participants in drug court have already done prison time or go as part of a split sentence of probation and jail time.
Typically, drug court is a probation requirement imposed during sentencing or after a probation breach. Not attending treatment or testing positive for drugs are drug court probation violations.
If there are indications that the participant broke the law, the drug court will keep them until the final hearing.
If a drug court participant breaks their probation, a judge may either take away their probation and throw them in prison or change the term of their probation.
Usually, cancellation of probation is after the court has exhausted all lesser sentences or when the probationer commits a new offense that concerns public safety.
What are Drug Court Procedures?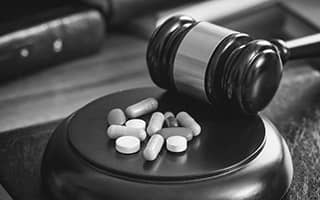 Drug court programs are for those accused or convicted of a crime and have significant drug use disorders. There is no single model for drug court programs, but most people get there in one of two ways.
In one model, before pleading guilty, those who meet the qualifications get sent to drug court instead of traditional court. It is often called "deferred prosecution" or "pretrial".
In another model, defendants who fit the criteria may enter guilty pleas and have their sentences suspended or extended while participating in the drug court program. This type of model is called "post-adjudication".
Assessment of Need and Target Population
In most states, "high risk or high-need" offenders are the main focus of the primary drug court model.
A high-risk or high-need criminal is someone addicted to drugs or alcohol and has a high possibility of committing another crime or failing to complete a less severe sentence, such as probation or pretrial supervision.
People who don't have these attributes but are low-risk or low-need tend to do just as well in less rigorous programs, like standard probation and diversion.
Participant Eligibility Criteria
Each drug court must write precise, objective, and detailed qualifying requirements for admitting applicants. Unnecessarily unequal treatment or the notion that the drug court is unjust can result from too unclear provisions.
The primary condition for qualifying in all drug courts is the presence of a substance use problem. The person must be under the high-risk or high-need category.
A second qualifying criterion for these courts is that the participant must have been guilty of a criminal charge or have confessed sufficient facts to be guilty.
The last qualifying condition is that a portion of the participant's sentence must include probation.
Each drug court may establish other qualifying circumstances based on its requirements and resources. Consider the nature of the present crime, criminal history, substance of choice, place of residence, and the availability of treatment services to match the offender's requirements.
Phases
Typically, a drug court consists of four organized phases based on objective criteria. The participant's developmental goals are at the core of the phase structure. As participants advance, they move to a higher stage where the court has minimized surveillance, and the conditions vary.
Generally, 16 to 27 months are necessary to complete all phases. The lowest period a person may spend in drug court is one year, and the proposed maximum is three.
Except for the first phase, there should be a minimum duration for each stage.
The amount of time a participant stays in each phase will depend on established criteria and criminogenic hazards.
Each court has different stages based on local requirements and resources, but the outlined phases below indicate a common framework.
Phase I: Assessment and Stabilization
The first step is Assessment and Stabilization. Phase I typically lasts between 30 and 90 days.
The criteria for phase I include:
A complete assessment by a treatment provider
Random and extensive drug and alcohol testing many times per week
Weekly meetings with the probation officer
Weekly or biweekly court status hearings in front of the judge
The court attendance requirement and the weekly probation officer meeting may alter for in-patient treatment participants.
The criteria for completing phase I contain the following:
Full compliance with treatment
Report from the treatment provider confirming the stability of the participant's recovery
The existence of self-help programs
Phase II: Intensive Treatment
The second phase focuses on intensive treatment. Typically, this phase takes around six to nine months.
Most of the time, the requirements of phase II include the following:
Random and extensive drug and alcohol testing numerous times per week
Weekly or biweekly reporting to the probation officer
Weekly or biweekly court appearances
Treatment according to the tailored treatment plan
Participants in phase II are often in residential treatment or treatment-integrated structured living arrangements.
The typical requirements for completion of Phase II include:
90 days of negative drug tests
Ongoing intensive treatment
Prosocial and healthy behavior
Phase III: Step-Down Treatment
The third phase is Step-Down Treatment. This phase typically lasts approximately six to twelve months.
Phase III criteria often involve:
Random drug testing numerous times per week
Reporting to the probation officer less frequently
Attending drug court less regularly
Using wrap-around services tailored to the participant's needs
Phase III is usually over when:
A person hasn't tested positive for drugs for nine months
Finished their supervised probation
Followed their treatment plan
Got a job or went to school
Wrote a letter to the drug court asking to move on to Phase IV
Phase IV: Maintain Treatment and Recovery
The last phase is to keep treatment and recovery going. Most of the time, phase IV lasts for six months. In this stage, the participant has more freedom in getting treatment and cover services, and they also have to be more independent.
Typical requirements for phase IV include:
Random drug tests
Less frequent visits to probation and drug court
The use of wrap-around services
A hair follicle test is often necessary to prove that the person has been sober for 90 days.
Graduation
Phase IV completion signifies graduating from drug court. Once a participant finishes drug court, the court will cancel their probation, and they are no longer under supervision.
Typical qualifications for drug court graduation are as follows:
Complete all four phases of drug court
Abstinence for twelve continuous months
Passing a 90-day hair test for drugs
Permission of the treatment provider for graduation
Achieving professional, educational, and job objectives
A written application for graduation
Community service
Appropriate residence
A continuing-care plan
A sponsor
Incentives and Sanctions
When a participant merits commendation for compliance or punishment for failing to fulfill expectations, the judge should administer applicable incentives or penalties accordingly.
What are the Differences Between Traditional and Drug Courts?
If they suspect you of using or selling drugs but didn't resist arrest or have a weapon, you're a nonviolent criminal. You have a higher chance of avoiding traditional court and the penalty of a full trial.
A drug court differs from a traditional court since it deals with nonviolent drug-related crimes outside of conventional criminal justice prosecution procedures.
The drug court programs provide control and surveillance while offering drug offenders treatment and probation. If you're battling substance usage, you may obtain addiction treatment instead of imprisonment.
Where to Find Drug Court Records?
Since drug court is not a traditional court, finding its records online may be challenging.
Still, you can use the Public Access to Court Electronic Records (PACER) system or contact the Clerk's Office of the courthouse where the lawsuit's filing occurred to find drug court records.
You have to create an account in PACER to access a specific court, specifically the drug court. For a fee, you can get copies of the records you want.
In this system, you can get electronic case files, paper case files, phone access to court records, opinions, and older historical court records.