Louisiana Court Records Lookup
The following is for information purposes only
Louisiana Court Records
What types of courts are in Louisiana?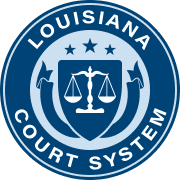 Louisiana features many courts, but they are arranged in a relatively simple structure. The most numerous courts are the mayoral, magistrate, and Justice of the Peace courts, which have the most limited jurisdiction. There are district courts that serve one or more parishes, which handle the vast majority of cases that are filed in the state. There are also Louisiana Circuit Courts of Appeal, which do not hold trials as an appellate body, and the Louisiana Supreme Court, another appellate body and the highest court in the state.
How are Louisiana court cases managed?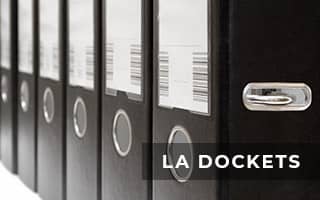 Cases in Louisiana are generally handled by the lowest court that holds original jurisdiction over them. In many cases involving municipal or ward ordinance violation offenses, the case may be heard by a magistrate, mayor, or Justice of the Peace, and decided by bench trial. For any cases requiring a jury trial, and for all serious crimes, the District Courts will have jurisdiction. If the District Courts hand down a decision that is challenged on appeal, the case then flows to the intermediate appellate body, and if needed, to the Louisiana Supreme Court.
Louisiana Courthouses, Sheriff's Offices, Police Departments, Jails, & Prisons
Which courts are in Louisiana?
Louisiana has a great number of courts though many are local courts with a very limited jurisdiction for cases. The primary trial courts in Louisiana are the Louisiana Circuit Courts, with the primary appellate body being the Louisiana Circuit Courts of Appeal. Appeals on some cases may also be taken up by the state supreme court.
Mayor's Court
There are more than 200 mayor's courts in the state of Louisiana, and they are responsible for granting a modest amount of judicial power to the mayor. They often authorize the mayor to hold bench trials for offenses that breach the general peace, as well as impose fines or imprisonment to an extent. The fines they impose cannot be more than $30 per charge.
Justice of the Peace Courts
Justice of the Peace Courts exist to help supplement civil jurisdiction in cases that would normally be heard by a District Court but have an amount in dispute less than $5,000. The Justice of the Peace has jurisdiction similar to magistrates and can set bail or issue court orders in cases that cannot be punished with death or hard labor.
City Courts
There are 50 Louisiana City Courts in the state, which are assigned concurrent jurisdiction with associated district courts. Judges in city courts can preside over civil cases where the amount in dispute is below $50,000. They can also hear cases that revolve around minor misdemeanors as well as violations of city ordinances. City courts are also tasked with hearing all of the state's traffic offense cases.
Louisiana District Courts
Louisiana District Courts hold general jurisdiction over all civil and criminal cases, aside from those prohibited by the state constitution, or that deal with workers' compensation appeals after determinations by other state agencies.
The Louisiana District Courts hold original jurisdiction over a number of other types of legal actions. They hear appointments for receivers or liquidators of dissolved partnerships or corporations. They hear all felony cases brought by the state, all cases dealing with civil rights, cases surrounding succession, wills, or probate law, cases challenging public offices or elected positions, and nearly all family and domestic law cases.
If cases decided by a Justice of the Peace are appealed or challenged, they are then heard in a district court if no parish court exists. Louisiana District Courts are also granted appellate review for specific criminal cases in the district.
Louisiana Circuit Courts of Appeal
Louisiana Circuit Courts of Appeal exist as the intermediate, state-level appellate body for the state of Louisiana. There are 5 Courts of Appeal that each cover a circuit of parishes, and these circuits are subdivided into districts.
The Louisiana Circuit Courts of Appeal hold appellate jurisdiction over all state civil cases, all cases of appeal that flow from family and juvenile court, as well as most of the criminal matters that are tried by a jury in the state. They also have supervisory jurisdiction over all lower courts in their respective circuits and divisions. They are able to review not only questions of law in civil cases but also questions of fact. This is not the case with criminal cases, however.
Supreme Court of Louisiana
The Supreme Court of Louisiana is the highest court in the state and is the last resort legal option in Louisiana. It holds exclusive jurisdiction over cases where a statute or law is declared unconstitutional, or when a party has been convicted of a capital offense and the death penalty has been assigned.
In all other cases and matters, the Supreme Court of Louisiana holds only conventional appellate jurisdiction over lower appeals courts. The justices for the Supreme Court of Louisiana are elected from seven election districts, each district containing a part or the entirety of two or more parishes.
What are the federal district courts in Louisiana?

The state of Louisiana is divided into three different federal districts, the United States District Court for the Eastern District of Louisiana, the United States District Court for the Middle District of Louisiana, and the United States District Court for the Western District of Louisiana. There is also a federal appeals court that is headquartered in the state, the United States Court of Appeals for the Fifth Circuit.
How to find electronic court records in Louisiana?
In most situations where electronic court records are being sought, they will need to be obtained through the parish or circuit court where the case was heard. For example, if the party was involved in a case in Jefferson Parish, they would search through the Jefferson Parish Clerk of Court.
Where to find additional information about Louisiana courts?