Oklahoma Court Records Lookup
The following is for information purposes only
Oklahoma Court Records
What types of courts are in Oklahoma?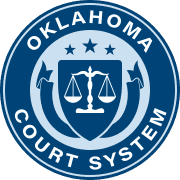 In Oklahoma, you'll find three distinct levels of courts. There are the federal district courts, the state supreme courts, the court of criminal appeals, the court of civil appeals, and various trial courts. All of these courts have different purposes and jurisdiction over different types of cases.
In this state, the highest level of court is the Supreme Court. This court looks over the cases and completes appeals. However, the Supreme Court only takes appeals for civil cases in this state. If a case is criminal, the Court of Criminal Appeals will be the one to handle it.
The Supreme Court has nine justices, while the Criminals Appeals Court consists of five. However, these appeals courts only review cases sent to them by the trial courts- they are not assigned original cases to handle on their own. The Civil Appeals Court has a total of 12 judges.
How are Oklahoma court cases managed?
All Oklahoma courts are managed by the state Supreme Court. This is the highest level, giving the court jurisdiction over the others. The justices of the Supreme Court look at various rulings of the lower courts and determine whether or not they were fair. They receive many appeals each year asking for changes.
The Supreme Court can review the outcomes of the trials. However, they do not add new evidence or have further investigations conducted, under normal circumstances. Instead, they are there to ensure the trials are unbiased and as fair as possible. Additionally, the court might receive cases that don't fall under any other forms of jurisdiction in other courts.
If you want to find court records online, there are plenty of places you can access public state documents. You can check the State Courts Network page for more information. You'll need to have the case number or other information to find the files that you need.
Oklahoma Courthouses, Sheriff's Offices, Police Departments, Jails, & Prisons
Which trial courts are in Oklahoma?
There are various trial courts in Oklahoma. They include all of the following:
District courts
Court of tax reviews
Municipal criminal court of record
Municipal criminal court not of record
Workers compensation court of existing claims
District courts
The Oklahoma District Courts are the basic trial courts and have a general jurisdiction over many cases in the state. You can find one of these courts in all of Oklahoma's 77 counties. Additionally, the counties are broken down into 26 districts.
These courts handle all sorts of cases. If a party doesn't agree with the decision they made, they can file an appeal to one of the appeals courts. These appeals will quickly make their way to either the Supreme Court or the Court of Criminal Appeals, depending on the type of case that it is.
Court of tax reviews
The court of tax reviews listens to taxpayer appeals and protests. The cases are always managed by a panel of three selected judges. This court also provides programs to eliminate tax scams and other helpful programs. Overall, this court is there to ensure that honest taxpayers are treated fairly among the law.
Municipal criminal court of record
Municipal criminal courts are created in cities that have more than 200,000 people living there. They can listen to appeals and keep records to make with the appeals courts. They also ensure that a written record of the trial is made for future reference in the appeal process.
Municipal criminal court not of record
Any city in the state with a population less than 200,000 does not record the proceedings of the trials. If a case is appealed, the case will need to be considered new and completely retrialed.
Workers compensation court of existing claims
This court in the state has complete jurisdiction over claims that have to do with workplace related injuries. If someone is hurt while on the job, this court is sure to cover it. They have 10 judges on their panel.
What are the federal district courts in Oklahoma?

In Oklahoma, there are three federal district courts. These courts can take appeals from various other courts, but are the center for federal cases and trials. These courts include the following:
Eastern District of Oklahoma
NorthernDistrict of Oklahoma
Western District of Oklahoma
The judges who hold positions there are chosen by the president of the United States. Then, the Senate confirms them. These judges hold these poisons for the rest of their lives or until they want to retire. The federal courts also contain three bankruptcy courts, which have jurisdiction strictly over bankruptcy cases.
To summarize, if a federal law was violated, then one of these courts will be assigned jurisdiction over the case.
How to find electronic court records in Oklahoma?
If you want to find court records, you can always go to the courthouses in person. However, many people today feel that it's much more efficient to get all of the documents that they need online. You can access them with any device and can find everything you want easily. There may be some small fees involved.
You can visit On Demand Court Records or State Records to find the information that you need. These sites should lead you to municipal, county, state, and other public records. You may need to have some information about the case in order to locate it within these systems. For instance, having the case number on hand can greatly speed up the process.
Overall, there are many different ways that you can access the court records you need. If you're unsure of how to do this, you'll want to talk with the staff at the courthouse. They can point you in the right direction.
Where to find additional information about Oklahoma courts?