Instant Court Case Lookup
Providing Reports on Civil, Criminal, Property, and Traffic Court Records
This Search is Secure and Confidential
Last updated on November 28, 2023
Conducting a search on CourtCaseFinder.com is subject to our Terms of Service and Privacy Notice. You acknowledge that CourtCaseFinder.com is not a consumer reporting agency under the FCRA and the information provided cannot be used for any unlawful purpose.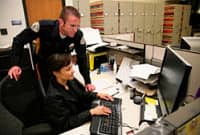 Courtcasefinder.com is an electronic court case retrieval service.
Court Case Reports
Name & Location
Case Number
Case Summary
Court Records
Court Case Details
Electronic Access
All Court Types
Local Court Records
District Court Records
State Court Records
Appellate Court Records
Land/Property/Small Claims
Federal Court Records
All Court Case Types
Civil Court Cases
Criminal Court Cases
Traffic Court Cases
Bankruptcy Court Cases
Liens & Judgments
Disputes, Lawsuits, Fines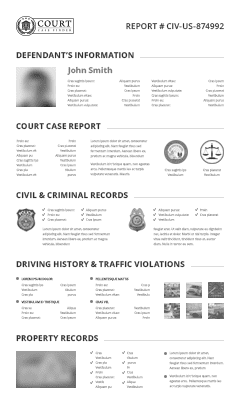 Providing Instant Electronic Court Case Reports
For Over 12 Years
Instantly Find Full Court Case Reports Online
View All Available Court and Police Records
Instantly Find Full Court Case Information Online
Types of Court Records:
Only When Available. Not All Court Records and Case Types are Searchable/Accessible Online.
Criminal Records
Criminal law violations that result in misdemeanor or felony charges become criminal records. Criminal case information could include offense details, prosecuting jurisdiction, case number, summary, dates, disposition, sentencing, & other court records.
Police Records
Police records include information about crimes and arrests, police reports, active and bench warrants, criminal investigations, registered sex offenders, and other law enforcement activity from city/town, county, state, and federal police departments, & sheriff's offices.
Felonies & Misdemeanors
Felonies and misdemeanors are types of criminal offenses. They are prosecuted under the criminal code and can result in fines, incarceration, & other punitive measures. Theft, trespass, & possession are misdemeanors, while homicide, rape, & armed robbery are felonies.
Jail Inmates & Prisoners
Jail records include information about inmates arrested on criminal charges and awaiting further sentencing. Prison records deal with incarcerated individuals convicted of crimes in the court of law and serving their sentence in a county, state or federal facility.
Bankruptcies
Bankruptcy records include information about federal bankruptcy proceedings, debtor details, assets & liquidations, re-payment plans, collections, discharge, and other administrative matters. Chapter 7, 11, and 13 are the most common types of bankruptcies.
Liens & Judgments
Liens, court judgments & court orders, wage garnishments, fund intercepts, and asset seizures are financial recovery instruments used by creditors & government entities. Examples include tax, bank, real estate, personal property, mechanic, and other types of liens.
Lawsuits
Civil court records include information about pending and filed lawsuits, arbitrations, contract disputes, disagreements, small claims, and other civil proceedings, with details about the complaint, resolution, outcome, and any compensation, when applicable.
Driving Records
Driving records deal with traffic violations, major collisions and accidents, moving citations, speeding tickets, DUI & DWI charges, civil & criminal penalties, driver's license suspensions & revocations, parking fines, and other driving offenses & DMV actions.
Case Information
Court case lookup could provide relevant case details such as subject's name, address, case number, docket number, jurisdiction, public court records, legal filings, judge orders, case file summary, civil or criminal proceedings, & final case disposition, if available.
District Courts
District courts are trial courts that have jurisdiction over civil cases and lawsuits, as well as criminal prosecutions. District court records include court files, trial processes, fines, claims, reports, clerk's office data, appeals, resolutions, and other judicial matters.
Municipal Courts
Municipal court records deal with information from local town, city, or village court cases such as property disputes, magistrate hearings, ordinance or statute violations, housing, zoning enforcement, common pleas, marriages & divorces, and other types of cases.
State & Federal Courts
State & federal court records include criminal & civil court cases such as tax & financial matters, family law, special jurisdiction, veterans claims, corporate litigations, superior & supreme courts, appellate courts, and other judiciary authorities under state & federal law.
US Courts Administration System
Additional Information, Explanations, & Terminology